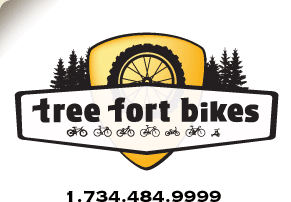 Product ID: 333222415087

Bomboloni 27.5+ Tubeless Ready Tire
2 available in-store / online
all about the
Vittoria Bomboloni 27.5+ Tubeless Ready Tire
The
Bomboloni
is Vittoria's first offering in the
fatbike
and
plusbike
size range. Starting with the tread design Vittoria looked to the automotive industry and technology used in snow tires for cars. The square-stepped lugs are siped at alternating angles for additional grip on wet roots, mossy rocks and snowy trails.
Vittoria
uses their TnT (Tube -No-Tube)
tubeless ready
casing to make setting up the
Bomboloni
tubeless with your favorite sealant a snap, but the tire can be used with tubes if you prefer to go the traditional route. If you don't have a favorite sealant, we recommend
Orange Seal Sub Zero
for cold weather riding and fatbike set-ups. For excellent performance at low pressures that the wide tire and
tubeless
set-up affords,
Vittoria
uses a
120tpi
construction. Having a higher thread count lets the
Bomboloni
flatten out more evenly on the trail side of the tire to make sure you are making the most of the knobs you have.
120tpi
casing tires will also give you better ride compliance vs a less expensive 27 or 60tpi tires. The TnT casing also offers some additional cut resistance when compared to
Vittoria's
standard casing.
The
27.5plus Bomboloni
measures 27.5x3.0" (79-584 for those fans of the metric system) and has an average
weight of 890g
. As with all 27.5plus tires, they will work best on a rim around 40-60mm wide. If have a "Boost" 29er mountain bike chances are your frame will accept a 27.5plus wheelset if you would like to go wide without changing your entire rig.
Dual compound tread mixes grip and high wear
Supple 120tpi casing
TnT tubeless ready casing
890g
The
Bomboloni 27.5plus
tire is set to work with the growing number of 27.5plus bikes that are coming to the market as fast as the factories can produce them. At
890g
the
Bomboloni
is a bit lighter than most of the factory tires coming on bikes like the Salsa Pony Rustler, Cannondale Beast of the East, or Specialized Stumpjumper Fattie.


your
90
log-in
to get credit for your question