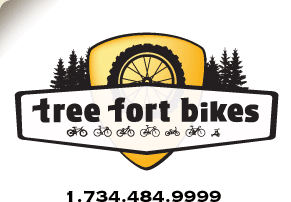 About Us
A lot of people ask what made us get into the bike business and we have one simple answer: "We love biking and want to share this obsession with our customers and fellow biking enthusiasts."
Why Buy From Us?
Tree Fort Bikes is a group of bikers, just like you. We ride and love to ride! That's why we opened a shop.
We aren't just another company that has purchased a database of products that they can post on the web to make a buck off Cyclists.
We intend to give back to the cycling community with every chance we get.
In 2003 we started off as a 2 person, self financed local bike shop. Since then, we've seen our physical location grow into an online experience that includes one of the most advanced ordering systems in our industry. This allows us to efficiently bring you some of the best products and service available.
Every step of the check out process is secure.
About Our Service
At our retail location, Tree Fort Bikes has a full service repair shop which can perform any repair from the simplest adjustment to more complex shock maintenance. We pride ourselves on our experience in the industry with over 50 combined years of repair knowledge. We are your best choice for quality service and repair.
Our Products
At Tree Fort Bikes we believe that everyone deserves to ride a high quality, reliable bike. We were founded with the goal of supplying the finest bikes and accessories in order to improve your performance in any style of biking. We believe that even if you are not looking to hammer down a trail or road, you still want, and deserve, a reliable bike with parts that perform. That is why we offer a wide range of products that can meet any cyclist's needs.

If you have a chance to stop into our retail location our expert staff will make sure to help find you the product that best fits your needs. Our knowledge and experience allows us to create a more enjoyable bicycling experience for you.

If you encounter a question while browsing our site we encourage you to call us at 734.484.9999 where we will be happy to assist you with any questions you may have.
Where Did Tree Fort Bikes Come From?
The idea for Tree Fort Bikes was conceived on a local trail ride. The very next week, during a long car ride to Moab, UT we began turning this dream into a reality. With the support of our fellow bicycle experts and friends we began to lay the groundwork for what would soon become Tree Fort Bikes.

Ask us about where we love to ride and we'll have answers because we ride and participate in organizations that promote biking.
About Our Involvement
Tree Fort Bikes strives to foster riders in their pursuit of personal happiness. Isn't being happy what it's all about? We want you to enjoy your free time and that's why we sponsor as many local bicycling groups as we can. We donate heavily to organizations with direct benefits for bicyclers.

Location
Tree Fort Bikes
1866 Whittaker Rd.
Ypsilanti, MI 48197