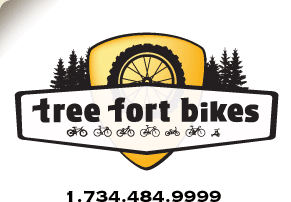 Product ID: 333222396494

Dillinger 5 26 x 4.8" Studded Fatbike Tire 120tpi Folding
32 available in-store / online
all about the
45NRTH Dillinger 5 26 x 4.8" Studded Fatbike Tire 120tpi Folding
You will not find a better fatbike tire for a smooth ride through snowy conditions than the
45NRTH Dillinger 5.
The larger cousin of the
Dillinger 4,
it shares a similar tread and stud profile allowing for amazing traction and confidence through tough terrain. But with its bigger footprint, the
Dillinger 5
will glide through loose snow.
With 258 precisely placed concave aluminum carbide stud holes, the
Dillinger 5
allows for unparalleled grip and traction, increasing your acceleration while climbing, and braking ability for better control. The concave crown creates a very sharp attack angle to the surface, resulting in increased traction. Any wear that occurs to the carbide crown creates an even sharper edge. Its tread is tightly spaced lowering rolling resistance. And with wider corner blocks you can face technical turns with confidence.
The
Dillinger 5
is the biggest fatbike tire for the biggest of rigs. Take your smooth ride out in the cold, with confidence on snowy singletrack, riding through loose snow and clawing in when faced with ice.
Tubeless Ready
Compatible with 65-102mm wide rims
Limited Warranty of manufacturer defects.
Folding Bead
120 tpi Ultralight Casing
To add or replace studs to your
45NRTH Nicotine
you will need a
45NRTH Stud Tool
and either
25 count
or
100 count packs
of
45NRTH Concave Carbide/Alloy Studs.

For a breakdown of
45NRTH

tire measurements
click here.
45NRTH
offers a
limited warranty
against manufacturing defects.

questions about the
45NRTH Dillinger 5 26 x 4.8" Studded Fatbike Tire 120tpi Folding
asked by:
A Visitor
Do I have to ride pavement to set the studs
answered by:
canteau
45nrth recommends that you ride around 30 miles on the tires while avoiding aggressive braking and cornering. This can be done on dirt or pavement, but the firmer the surface the quicker the studs will get set.

During this break-in period, it will be normal to lose a few studs
asked by:
A Visitor
Is this the new tubeless version?
answered by:
canteau
Yes, these are the updated tubeless ready tires.

your
90
log-in
to get credit for your question