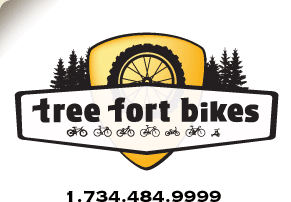 Product ID: 333222381892

Logo BPA Free Water Bottle - Limited Edition
175 available in-store / online
all about the
Tree Fort Bikes Logo BPA Free Water Bottle - Limited Edition
We've taken our tried n true water bottle and gave it a new look. The classic Tree Fort Bikes water bottle is clear with a clear cap which is simple and goes great with any paint scheme. These limited bottles are for those who want something a little darker. Maybe you don't want your friends to know what secret sports drink concoction you have brewed up, or maybe you just like dark colors. Either way this bottle is made for you. It's dark but not solid black so you can still check the fluid level at a glance.
Made by the best waterbottle manufacture out there.
BPA Free
Perfect cage fit
Soft top with large diameter
Wide mouth screw off lid
No leaks!
24oz.
Please place this bottle and cap away from the heating elements in a dishwasher to avoid melting anything. The top rack is usually a good choice.


your
90
log-in
to get credit for your question