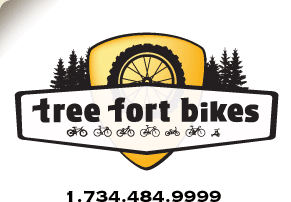 Product ID: 333222368418

RiBMo 26" Kevlar Black Tire
all about the
Panaracer RiBMo 26" Kevlar Black Tire
The RibMo tire from Panaracer is a great way to save weight and make your bike more efficient. These tires are fast and slick, and the leight weight means less rotating weight on the outside of the wheel, which means your bike moves faster with less effort.
Not only are they fast, but durable and puncture resistant as well. Panaracer has designed their ProTex Shield technology which makes the tires extra resistant to pinch flats, punctures, and sidewall blowouts.
Features:
ProTex Shield for puncture resistance
Panaracer's All Contact tread shape for increased rolling efficiency, even tire footprint, and even transition from the center to side
Panaracer's Mile Cruncher rubber compound for increased durability
Weighs in around 330g
Max PSI of 100
Folding bead
Size 26 x 1.25 and 1.5

questions about the
Panaracer RiBMo 26" Kevlar Black Tire
asked by:
A Visitor
Will the decimal sized 26" X 1.25" fit the fractional sized 26" X 1 1/4" r
answered by:
t.young
32x559 is what you should see on the sidewall, I don't think there's a difference with the decimal vs fraction.
asked by:
A Visitor
Is the ride on 1.5 w/max 65psi harsh & fast, or decent & slow vs tire w/similar tread @85p
answered by:
mwirth
It will be a little harsher at max PSI but still a fairly comfortable ride. Thanks!
asked by:
A Visitor
Any chance of getting a 26 x 1.75" size?
answered by:
mlewis
Sorry, that size is not currently available to us.
asked by:
A Visitor
What's the psi limit for 1.25" tire, 100 psi?
answered by:
canteau
Yes the 1.25 tire will accept 100psi, some mountain rims aren't rated for this pressure such as the lighter weight Stan's rims.
asked by:
A Visitor
What is psi for the l.50 size?
answered by:
canteau
The 1.5 tire has a max PSI of 65lbs.

your
90
log-in
to get credit for your question