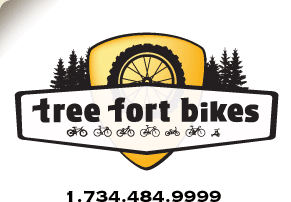 Product ID: 333222375013

2012 El Mariachi Ti Complete Bike
all about the
Salsa 2012 El Mariachi Ti Complete Bike
The Salsa El Mariachi, kicking butt since 1997.
From epic 100-mile rides to fast xc racing, the Salsa El Mariachi Ti is the mountain bike for the job. Titanium tubing provides you with one of the finest ride qualities available. Vibration damping, stiffness and low weight... you get it all with titanium.
The El Mariachi uses Salsa's Workhorse geometry for stable and balanced handling, for all day reliable performance. The tapered headtube provides you with the strength and stiffness that you're looking for in the front end of your bike.
Other cool things:
Compatible with double and triple cranksets (or single for men)
Two bottle cages
Fits up to 2.3" 29er tires
Semi-Integrated headset
So, what happens when you buy an El Marachi from Tree Fort?
Well, when we receive your El Mariachi from Salsa it takes a trip over to our service department and gets fully assembled and tuned. We take it for a spin around the block, and off a few sweet jumps. If it survives, then we carefully re-box and send it your way! When you get it, there will be minimal assembly required, if you run into any bumps give us a call and we'll be stoked to help! 734.484.9999

questions about the
Salsa 2012 El Mariachi Ti Complete Bike
asked by:
A Visitor
I'm 6'00, 32" inseam and seem to be "tweener" for sizing. Any suggesti
answered by:
awilson
It's tough to size you over the internet but I would suggest checking out Salsa's geometry and sizing charts on their site, http://salsacycles.com/bikes/el_mariachi_ti/. Shorter toptubes will be more cramped and longer will require a more stretched out ride. Some of that can be compensated for by a longer or shorter stem. Longer stems steer slower and more flowy and shorter stems are quicker and twitchier.

your
90
log-in
to get credit for your question