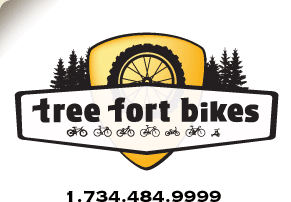 Product ID: 333222361460

New York Fahgettaboudit 5' Chain 1415 & Disc Lock
0 available in-store, 25 available online
all about the
Kryptonite New York Fahgettaboudit 5' Chain 1415 & Disc Lock
Kryptonite New York Fahgettaboudit Chain Locks for extreme security needs in high crime areas.
14mm six-sided chain links made of 3t manganese steel
5 foot length
15mm hardened MAX-Performance steel shackle
Hardened double deadbolt design provides protection against twist attacks
New York high security disc-style padlock with two "I" keys and one LED key
One year free with registration, $3750 anti-theft protection offer for bikes

questions about the
Kryptonite New York Fahgettaboudit 5' Chain 1415 & Disc Lock
asked by:
A Visitor
Do they have it in 3 feet
answered by:
canteau
The Kryptonite New York Fahgettaboudit comes in a 100cm (3'3" version) available here: http://www.treefortbikes.com/product/333222361461/1171/Kryptonite-New-York-Fahgettaboudit.html
asked by:
A Visitor
how much does the fahgettaboudit 5' chain and lock weigh
answered by:
t.young
15lbs.
asked by:
A Visitor
Will this lock with brittle if somebody were to spray freon on it.
answered by:
t.young
No lock is indestructible, this is pretty much as secure as you can get without hiring a guido with a machine gun to watch over your bike.

your
90
log-in
to get credit for your question