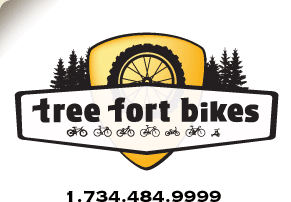 Product ID: 333222355359

Tree Fort Logo Waterbottle (BPA Free)
65 available in-store / online
all about the
Tree Fort Bikes Tree Fort Logo Waterbottle (BPA Free)
Made by the best waterbottle manufacture out there.
Ships with Black or Clear cap.
BPA Free
Perfect cage fit
Soft top with large diameter
Wide mouth screw off lid
No leaks!
24oz.
Please place this bottle and cap away from the heating elements in a dishwasher to avoid melting anything. The top rack is usually a good choice.

questions about the
Tree Fort Bikes Tree Fort Logo Waterbottle (BPA Free)
asked by:
A Visitor
Is this manufactured by Specialized?
answered by:
t.young
Yes they are.
asked by:
A Visitor
What is the "plastic number" for this bottle? (The number inside the recyclin
answered by:
mlewis
These are number "4" plastic.

your
90
log-in
to get credit for your question