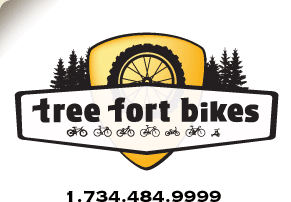 Product ID: 333222337034

all about the
Tree Fort Bikes Tree Fort Logo T-shirt
Take a journey back to the yesteryear of Tree Fort and sport one of these awesome t-shirts! Printed right here in our hometown of Ypsilanti, MI on high quality and socially conscious American Apparel shirts, you're sure to be the talk of your next get-together when you've got one of these on your chest. Featuring our old logo that shows just where you like to ride, this shirt is sure to be ultra-comfy and fit the way that American Apparel is known for.
Covers your body when you need to have clothes on
Authentic antique Tree Fort logo shows you knew about us first!

questions about the
Tree Fort Bikes Tree Fort Logo T-shirt
asked by:
A Visitor
What's the color of the thumbnail in the bottom right? Brown? Thanks.
answered by:
mcacciapalle
Yes the bottom right thumbnail is the brown version of this shirt. Thanks!
asked by:
A Visitor
Is the organic natural color, the green T in the pictures?
answered by:
smulder
The Green is actually the Army Green color. It appears we don't have the picture for the Organic Natural shown here. That color is a darker cream actually. Thanks!
asked by:
Tribern
Hey TFB! I want to buy a shirt, but I'm unable to select size & color. What gives?
answered by:
bhardy
These are currently getting counted and checked back into inventory. They should be backi up soon!

your
90
log-in
to get credit for your question